Lamb's Ear, a perennial, does well in Texas.  Though you may read that it is drought tolerant, I think that was written for a place not quite so dry as Texas. In my experience Lamb's Ear is far from drought tolerant.  While it may require less water than some perennials, it requires frequent watering to maintain a lush appearance and some water to survive.
The fuzzy grey foliage can become brownish; the maintenance required for Lamb's Ear is simply to keep the dead leaves cleaned out.  In Texas we do not have the problems of the wetter climates, so in that regard, Lamb's Ear does well here.
The flower of the Lamb's Ear is, in my opinion, not attractive and there are non-flowering varieties with larger leaves!  That's my first choice.
S. byzantina 'Helen von Stein' Is a large leafed Lambs Ear that not bloom it is also known as 'Big Lamb's Ears.  The Lambs Ear roots are close to the surface so mulch does help to hold the water in.  These are so easy to root.  They pull up in organized gentle clumps to be replanted very easily.  With enough water — these are very hardy.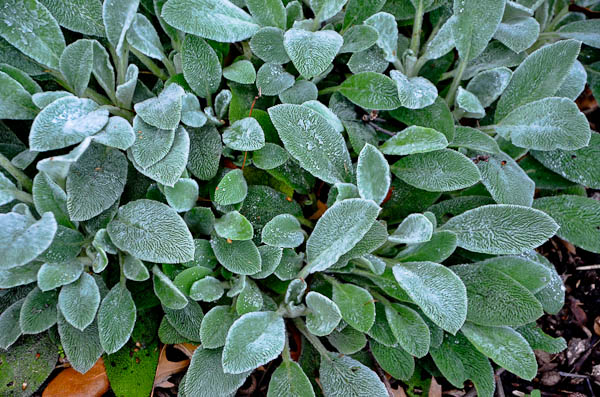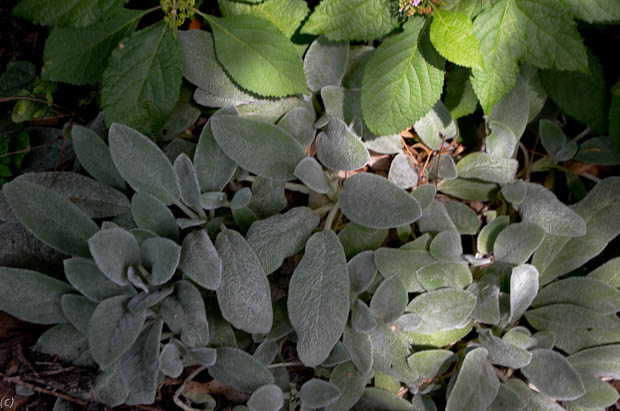 Lambs Ear in the fall
Lambs Ear and Tansy the classic combination:
Helen Von Stein is the flowering lambs ear.  This is a fun lambs ear for children = people with way too much time on their hands make little lambs out of the flowers and put googly eyes on them.  Okay, maybe I am just jealous and wish I had time to do that!  Try it = but don't expect me to make one — if you make one send it!  I will post it and not make fun of you and apologize.