Subscribe to One Perennial a Week Email
Slow Loading Image Rich Pages Must Be Reduced
Detailed Look at One New Perennial Each Week
Stay Up to Date with Realistic Advice on Perennials that Work
What's New in Dallas this Week?
Yellow Blooming Trees in July.
 
The Laburnum Tree – Beautiful and Poisonous
While there are no reported deaths from the Laburnum Tree in one hundred years the tree carries that label.  It is certainly lovely with Yuccas, Palms and Agave.
This tree reminds me of William Blake's poem, A Poison Tree.
A Poison Tree
I was angry with my friend:
I told my wrath, my wrath did end.
I was angry with my foe:
I told it not, my wrath did grow.
And I watered it in fears,
Night and morning with my tears;
And I sunned it with smiles,
And with soft deceitful wiles.
And it grew both day and night,
Till it bore an apple bright.
And my foe beheld it shine.
And he knew that it was mine,
And into my garden stole
When the night had veiled the pole;
In the morning glad I see
My foe outstretched beneath the tree.

This tree looks like a yellow bloom Vitex – though I am not sure.  It blooms well after the lavender Vitex.  It is exquisite.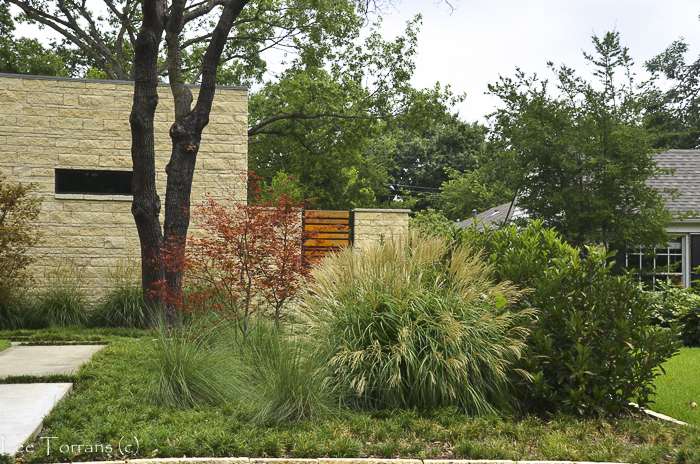 Mexican Feather Grass, with Maidenhead Grass in July.  A small Japanese maple behind just beginning to grow.  The symmetry of the Mondo Grass defines the planting and reflects the architecture.
Saludos desde el Arboretum de Dallas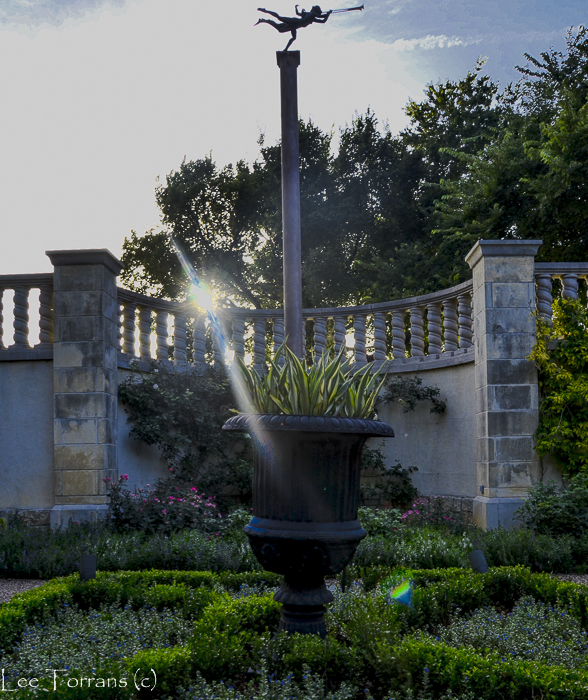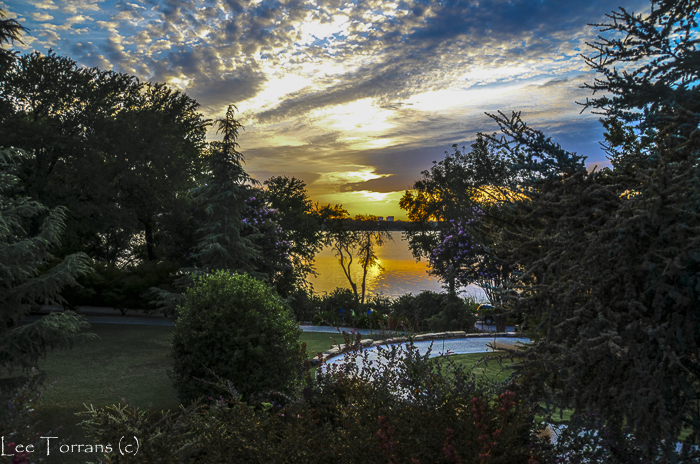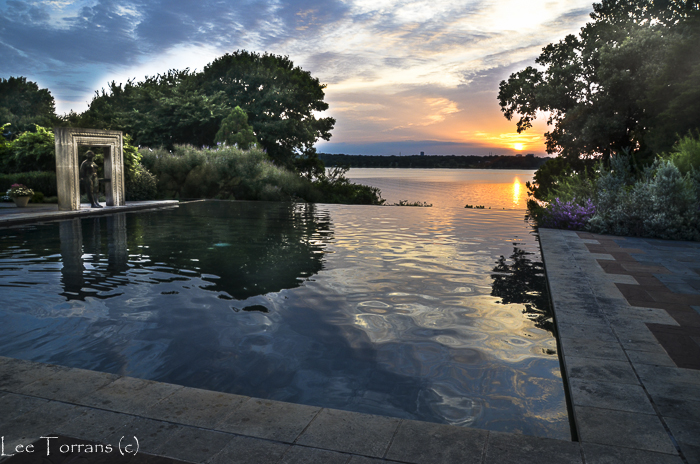 A Woman's Garden.  Arboretum
Read and see more here.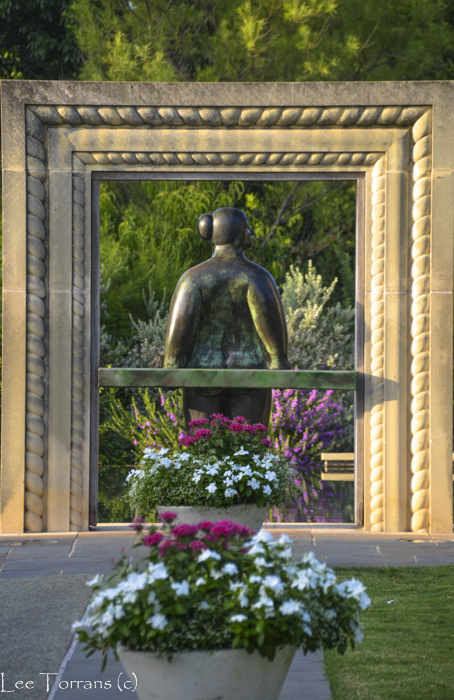 Not the Only One Getting Serious About Crape Myrtles!

Purple Crapes Say Hello, Finally!

Read more about purple crape myrtles here.
Purple Muskogee Crape Myrtle – Painting with a Lavender Palette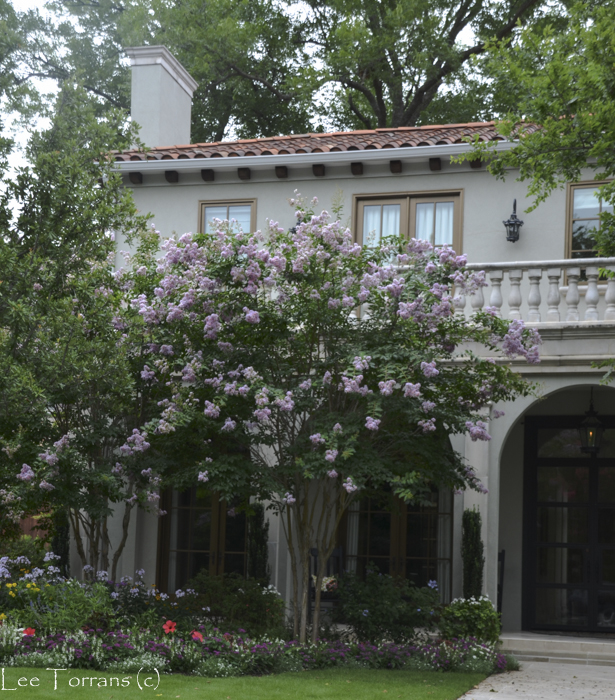 Read more here on Lavender Crape Myrtles: Muskogee and Bashan's Party Pink.
The History of a Fern!
The amazing story of a new born fern.  Next Week!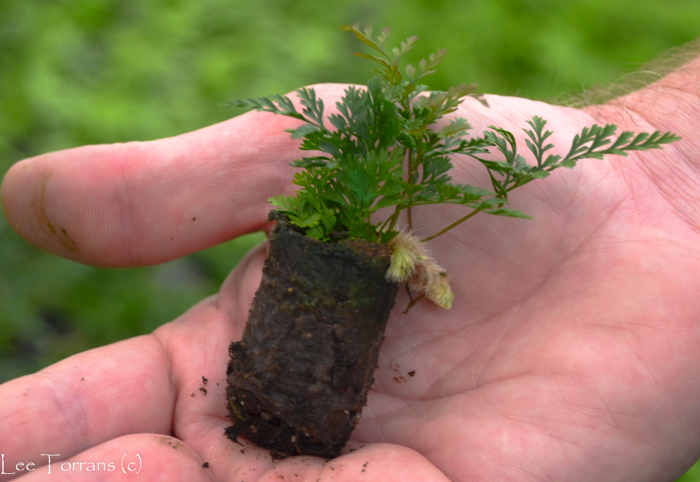 The Wilson Historic District Dallas, Texas
Join me this

week

touring the Wilson Historic District.  

Brought to Dallas by the Meadows Foundation.

Link Here
Week Three of June in Dallas:  Looking at those front drive medians
A detailed look at the best medians and understanding of what makes them work.  Hint: layering.  Next week.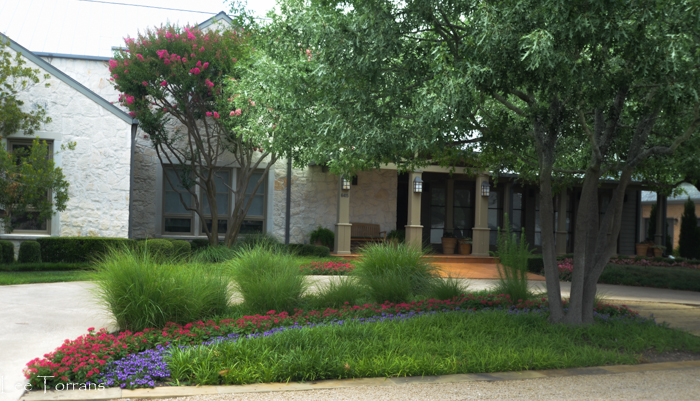 June to July:  Crape Myrtle Months and I am getting serious about Crapes!
See redesigned page on Tuscarora – I love the blooms, the shape, the texture, just don't care for the color.  Read an honest evaluation of the MOST popular crape myrtle in Texas, the Tuscarora.
Dwarf, Miniature, and Baby Crapes!  Which one is right for you?
Stay tuned for two years of images on dwarf and miniature crapes and everything my client and I know combined!  Good thing he is a Crape Myrtle expert.  I still get confused?!?!?  Is it a dwarf, a miniature or just a baby.  It really takes an expert to make the call.  Next week.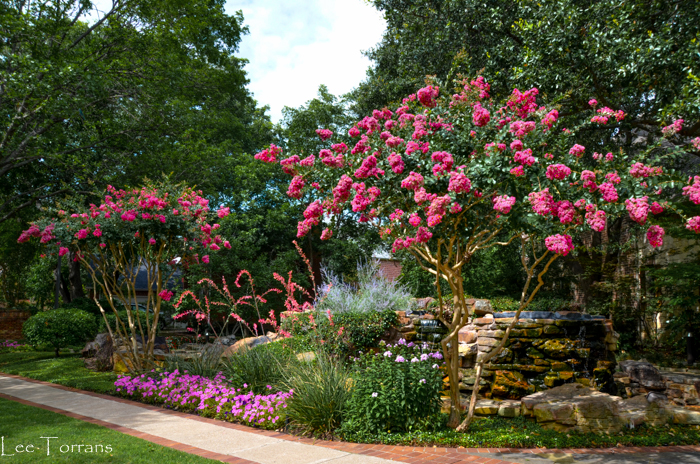 Week Two of June in Dallas.  Because gardening is like poetry.
 The Crapes are blooming!  They have been slow to bloom this year because of the long winter.  They are now putting on a stunning display in Dallas!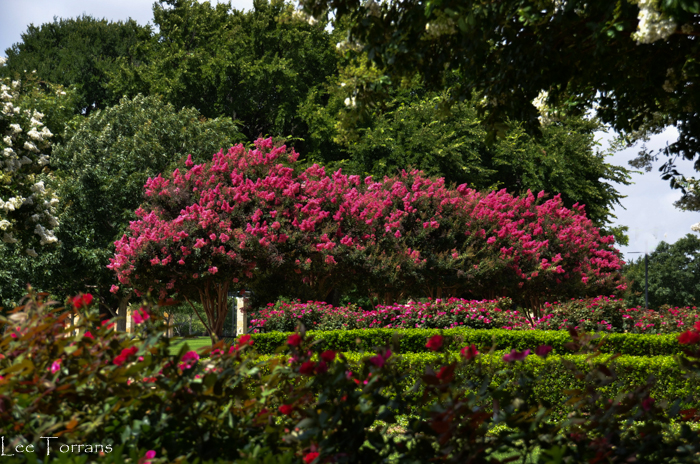 Read more here … Texas Top Ten Crape Myrtles.
Sometimes the best landscaping is very little.  The house says it all.
I taste a liquor never brewed –From Tankards scooped in Pearl — Not all the Vats upon the Rhine Yield such an Alcohol!
Inebriate of Air — am I — And Debauchee of Dew — Reeling — thro endless summer days — From inns of Molten Blue –

When "Landlords" turn the drunken Bee Out of the Foxglove's door — When Butterflies — renounce their "drams" — I shall but drink the more!–
Till Seraphs swing their snowy Hats — And Saints — to windows run — To see the little Tippler Leaning against the — Sun –

Emily Dickenson
How has Austin influenced Dallas gardening?
Simply and irrevocably, until the shade sets in!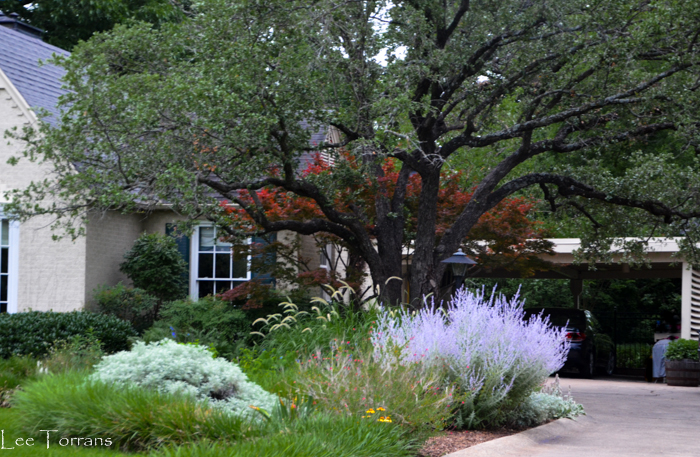 Read more here.
 Getting the Crapes So Right!
Texas Top Ten Crapes

Japanese Maples
Read more here:  Japanese Maples.

It's About the Trees and the Ferns
Read more here.

See and read more here.

The Classic "Fern Urn" Comes Alive!
Read more here on ferns in Texas.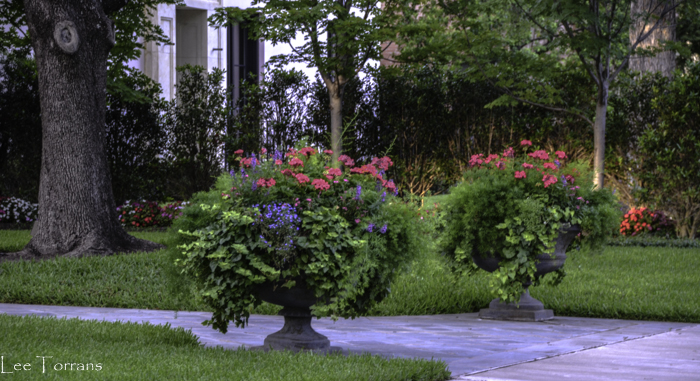 Shade Gardening Perfection
Shade Gardening to perfection. Limelight hydrangea now comes in dwarf and miniature forms.  Here with purple Persian Shield.  See slide show here.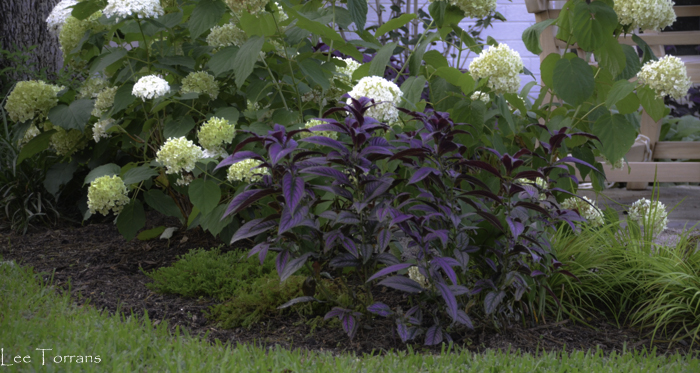 Week One June
Container Gardening for the Long Hot Summer
Texas Superstar:  Variegated Tapioca in the center and one week later below.  This tropical foliage plant grown as an annual in all but southern-most Texas. The variegated form is prized for its vivid yellow patterned leaves.
More on Container Planting Here.
More on Texas Superstar Variegated Tapioca Here.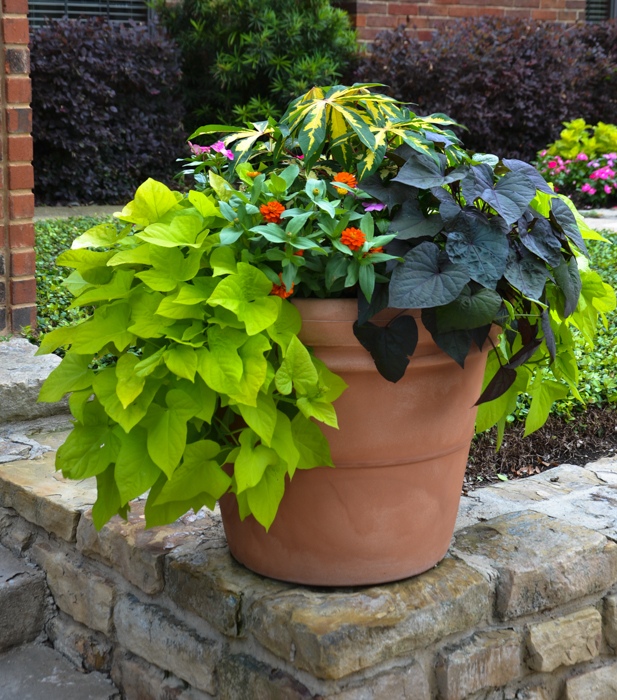 Ferns Have Significant Place in Dallas Landscape History
Wood Fern Coming On Strong!  More on ferns in Texas here.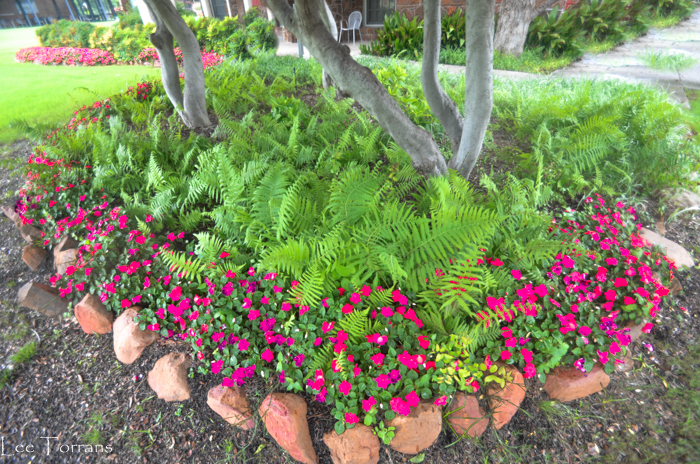 First Week of June
Mixing Native Plants with Traditional and Bidding Grass Adieu
Loropetalum Accents Perennial Border (More Here on Loropetalum from Pixie to Five Feet Tall!)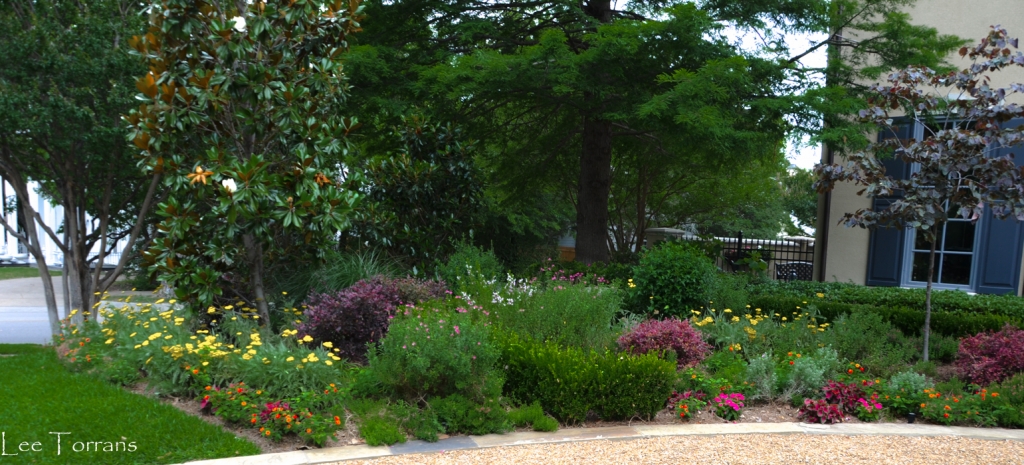 Mophead Hydrangeas Bloom as Oakleaf Hydrangeas Fade
More here on Oak Leaf Hydrangeas, French Hydrangeas and Mop Head Hydrangeas.

The Romantic Look Alive and Well in Dallas

Oakleaf Hydrangeas fading on June 3 with spreading yew (one of my favorite shrubs)!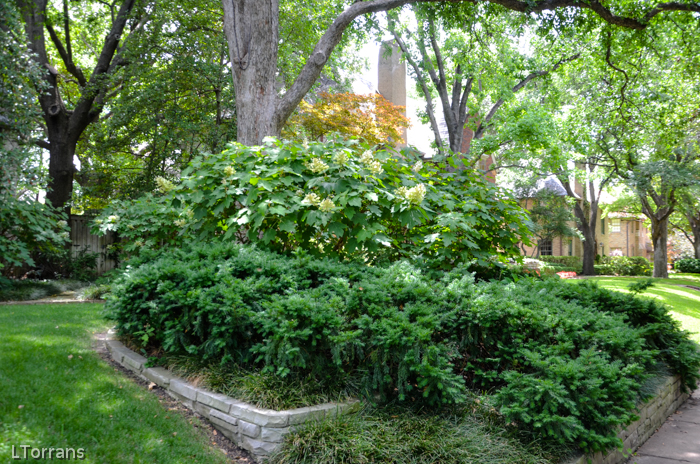 Native Plants and June Perennials.  More Here.
Going Native!
Blooming Trees in Texas!  Natives and naturals.  All Here.  Below is Rose of Sharon Althea Tree/Shrub.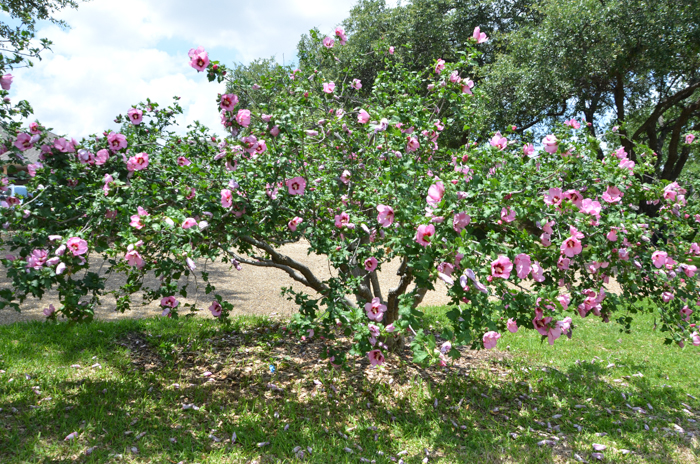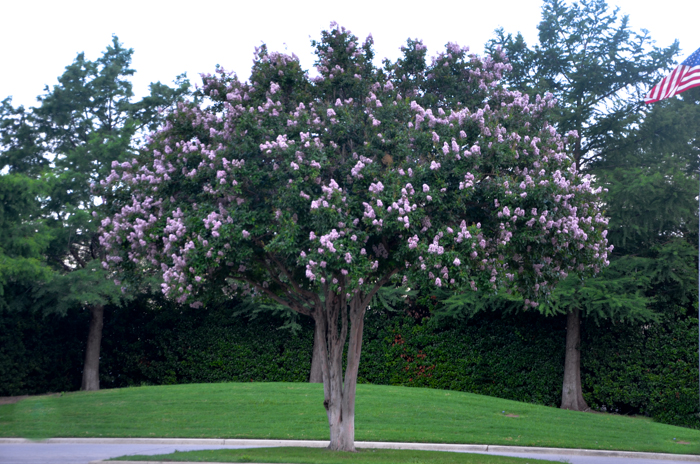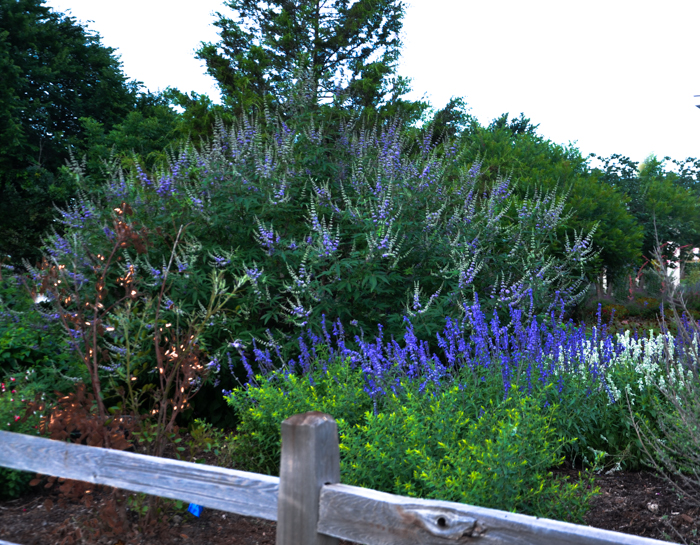 Russian Sage, Red Yuccas, Mealy Blue Sage and Saliva Gregii bloom in tandem with the Vitex Tree for an amazing Memorial Day color feast.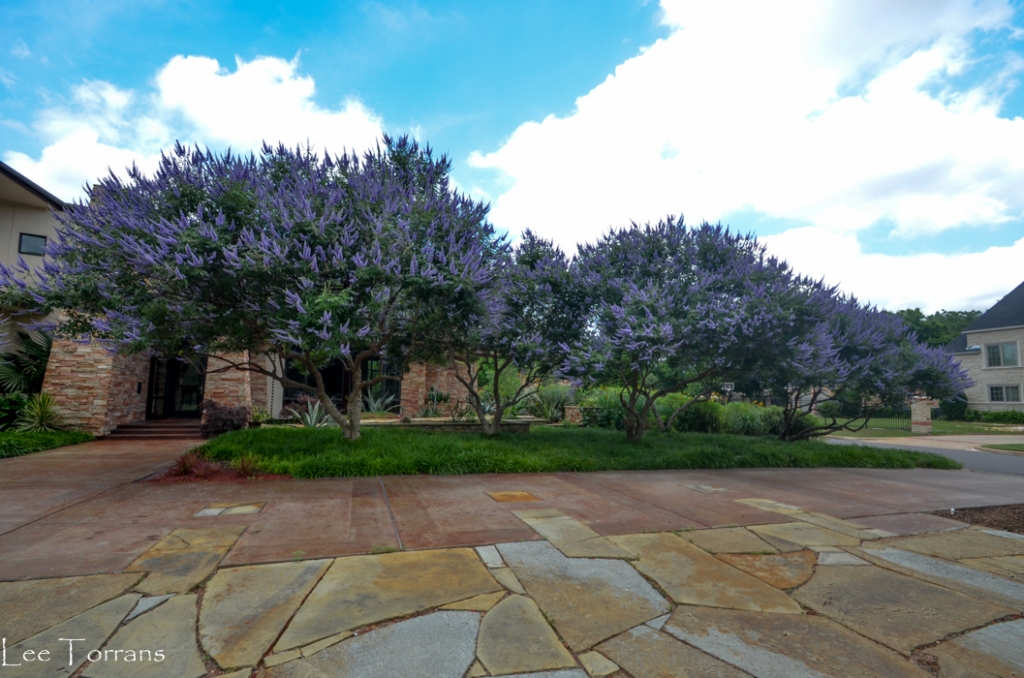 Russian Sage and Yucca behind blooming in early June in Texas.  More Here on June Perennials.  Also see a Russian Sage Perennial Pocket Garden here.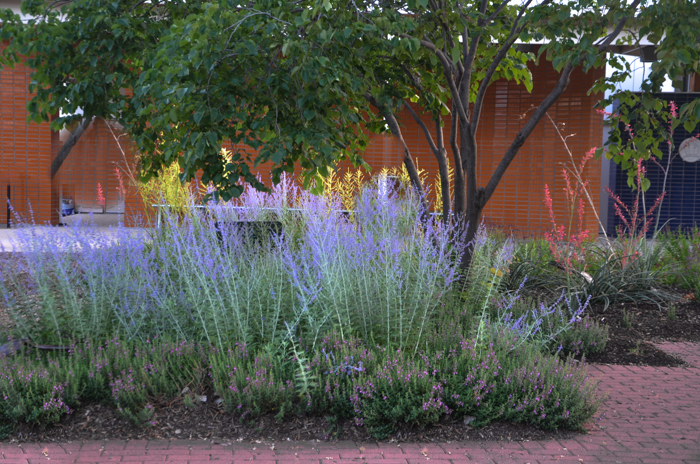 Little Gem, DD Blanchard and the Teddy Bear Magnolias continue their short bloom life!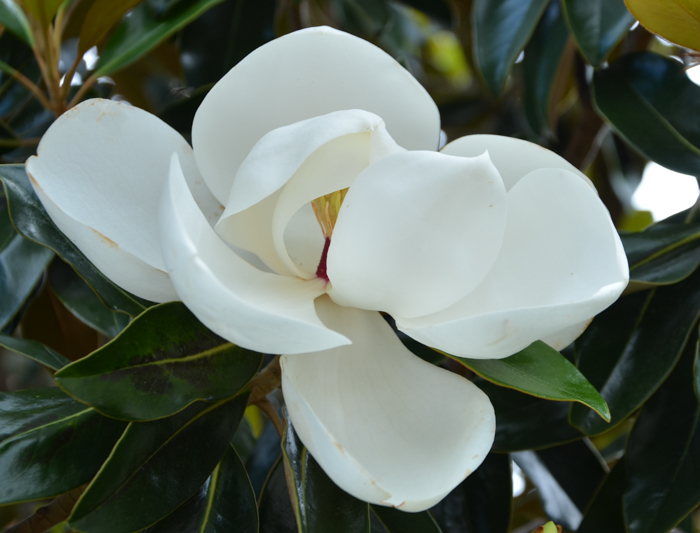 Lee Ann Torrans What's In My Camera Bag?
My Standard "Go To" Lens: Nikon 28-300mm f/3.5-5.6G ED VR AF-S Nikkor Zoom Lens
Use this indoor museum and low light: Nikon 35mm f/1.8G AF-S DX Lens for Nikon Digital SLR Cameras
Good price around $200!
Is a bit redundant with the 35mm but a good price: Nikon 50mm f/1.8G AF-S NIKKOR FX Lens for Nikon Digital SLR Cameras
Good price around $200!
Very good for portraits: Nikon 85mm f/1.4G AF-S Nikkor Lens for Nikon Digital SLR