With Scott Pruitt in charge of the EPA I would kindly and respectfully ask that you join me in preserving the health of our planet and recognize the reality and impact of climate change for the next generations. We have had non-stop earthquakes in Dallas since fracking began here and in Oklahoma.  We need a reality based EPA and a strong proponent for our planet.
More on Japanese Maples in Dallas landscaping here …
Read more on "Pocket Gardens" here …
Best Shrubs for Texas
Read more on landscaping with Texas shrubs here …
Thrift and Summer Phlox – Not the Same but Both Great
Thrift with Japanese Maple in background.  Sometimes people call Thrift a phlox but it's not.  Phlox completely dies back during the winter but Thrift will keep a slight green mound.
Read more about Thrift and Phlox here …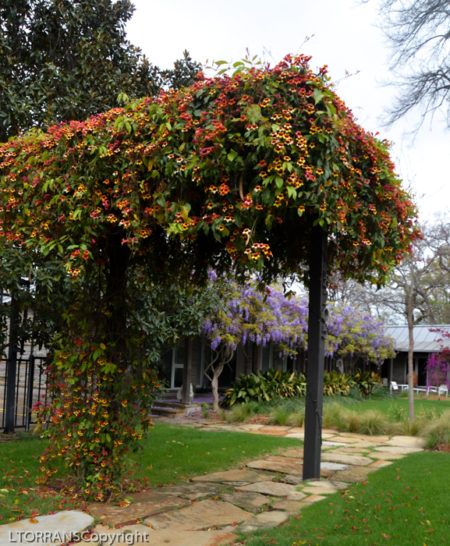 Cross Vine with Wisteria.
Read more at Vines and Climbers …
More on Texas Charming Architecture
Spring in Dallas Container Gardening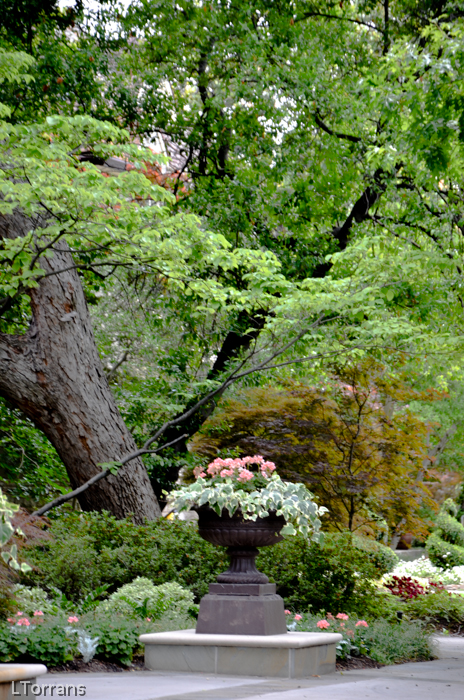 Japanese Maple and Dallas Container Gardening.
Read more about container gardening in Texas here …
 Dallas Museum of Art and Nasher Sculpture Center Gardens
 Dallas Musuem Art Entry Genesis Gift of Life Henry Moore Sculpture
 Nasher Sculpture Garden Rodin: Eve
Read more on the DMA and the Nasher Sculpture Gardens here …
Weeping Cedars

 Weeping Cedars.  Cedars are wonderful and I love them with nandinas.  Old fashioned and out of style, to be sure but they add a lot to any garden.  Did you know Mahonia is a cousin of nandina?
Read more about cedars here …
What's Blooming Early March Texas
Dogwoods Blooming

Read more about Dogwoods here …
Dogwoods have been hard to grow outside of moist and wet east Texas.  But they do thrive in dryer climes with a bit of water to get them through.  Like most plants it takes two or three years to get your dogwood situated with lots of water and fertilizer and even then they can be lost to the drought conditions of Texas from July to September.
Spirea and Oklahoma Redbud blooming early this spring … global warming after a winter that barely happened.  For 'new' gardeners it's important to understand blooming companions!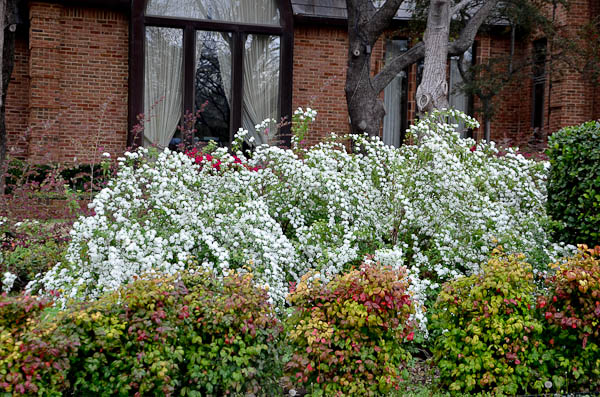 Spirea white flowering shrub with nandina.  Don't trim those long flowing branches!!!
Redbud Trees in Texas:  Match Made in Heaven
Texas Perennials

Rudbekia – Black Eyed Susan: Plant size varies greatly, from dwarf one foot varieties like 'Becky' and 'Toto', to the giant Rudbeckia maxima, which can reach nine feet tall.
Read more about Texas Perennials here …
 Roses over Dallas impacted by Rose Rosette disease.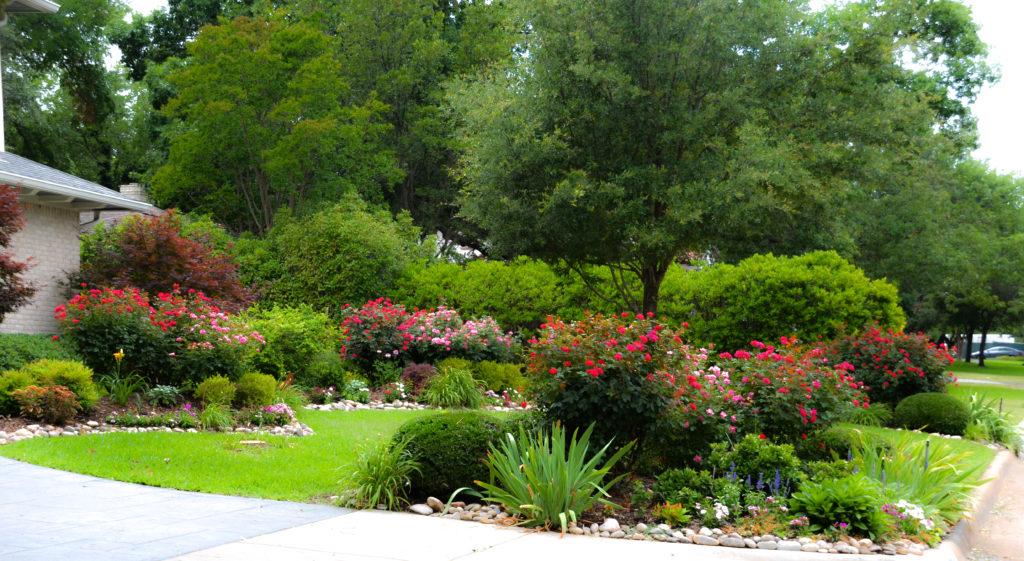 Read more about Texas roses here …
Read more about Rose Rosette disease here …
 Crape Myrtles in Texas

This beautiful hedge of Arapaho Crape Myrtles continues to thrive.  The Knockout Roses, however, are now gone, a victim of Rose Rosette disease, which is not a disease but wingless airborne mites that attack roses.  They burrow into a rose and there is no cure.  You can cut the rose back but the mites will only go deeper.

Many are turning to miniature crape myrtles to fill the void left by Rose Rosette disease and declining roses in Texas.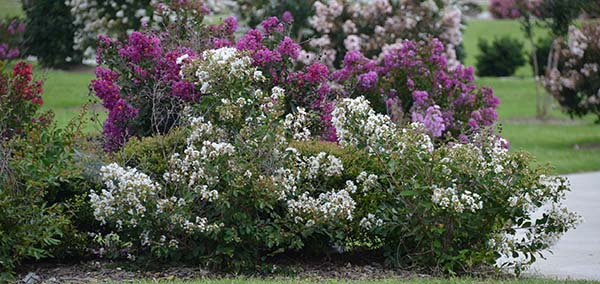 Read more about Crape Myrtles here ….
Lovely grouping of dwarf crape myrtles at the World Collection Park. Good substitute for hard hit Texas roses with Rose Rosette disease.
Read more about Rose Rosette disease here ….
Pink Texas A&M SuperStar Crape Myrtle with Vitex Tree
The irrefutable proof that crape myrtles are Texas hardy and Texas friendly is found in the crape below. Its trunk is damaged from repeated careless weed eaters, it is located in a parking median at a building abandoned for at least four years and yet with no water, no fertilizer and no care, this little crape is a powerhouse bloomer!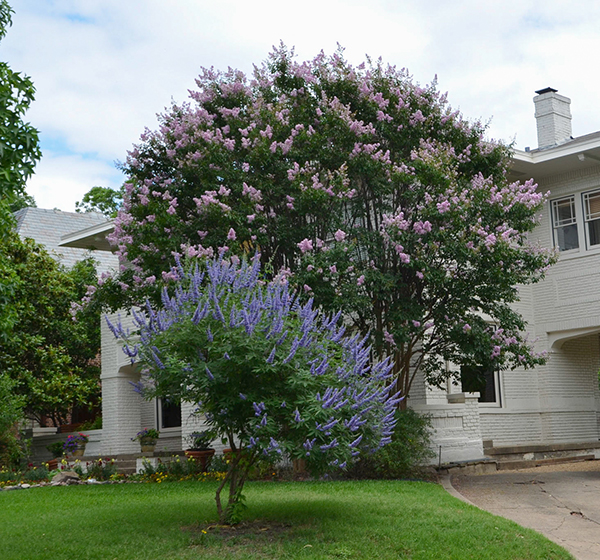 Basham's Party Pink has been named a Texas A&M SuperStar. The purple Vitex Tree had already been named a SuperStar. The problem with naming a crape myrtle a SuperStar for Texas is that virtually ALL crapes are "super stars" in Texas. Our weather, hot and dry, short winters, is ideal for all crapes. This is one SuperStar that has little meaning, unlike so many others which recognized legitimate breakthroughs for Texas such as Basket of Gold Columbine. Pictured above is Basham's Party Pink blooming along side the Texas Vitex tree.
This magnificent little crape lives alone in a parking lot of a building that has been abandoned for five years.  It blooms its heart and and is proof crape myrtles are heat hardy in Texas.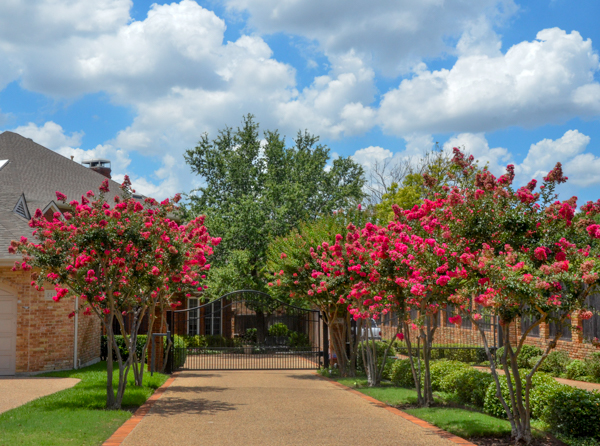 This group of young Arapaho crape myrtles will be come a lovely 30 foot crape myrtle alley.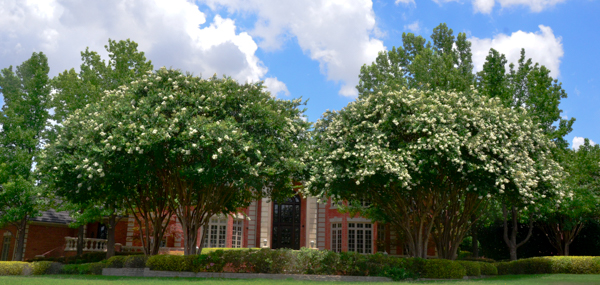 Read more about White Crape Myrtles in landscape design here …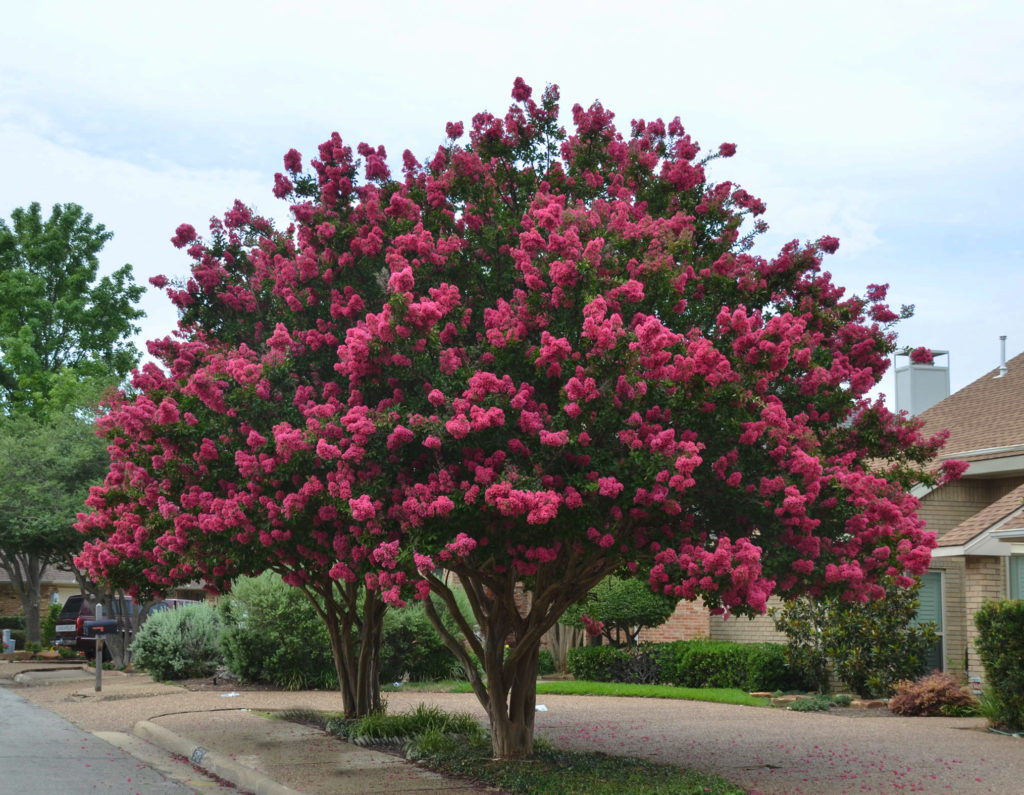 Centennial Spirit: My favorite crape (today).  Favorites change constantly for me but certainly in the top ten.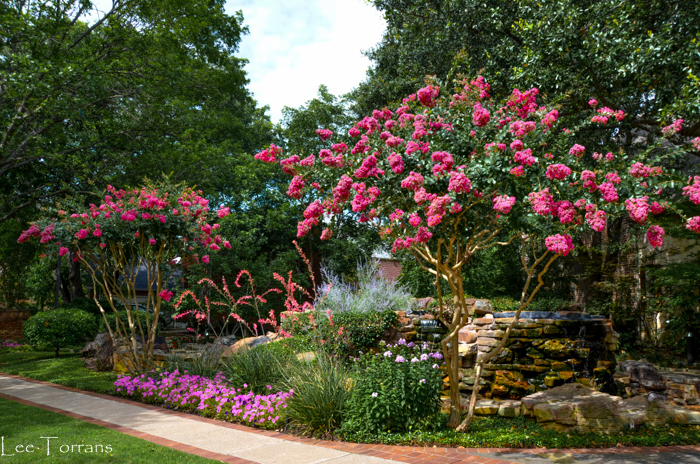 Tonto: a small crape that will reach six to eight feet tall.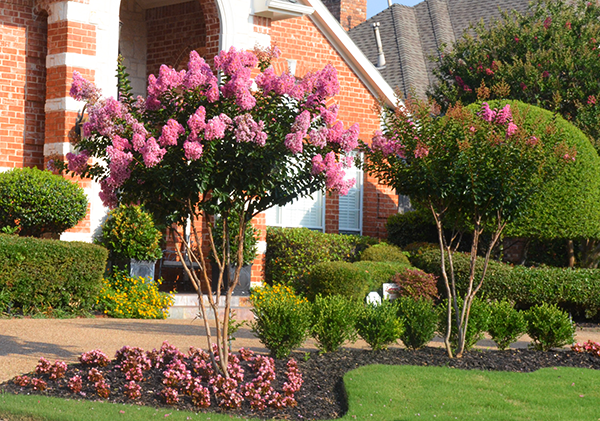 Pink Velour:  Love the velour series in party pastes of pinks, magenta and lilac.
Read more about water features in landscape design here …
The Dallas Arboretum
There was a dragon fly in the summer phlox; there was a butterfly in the clematis.
I know I should be there with you. I miss you – and I am sorry to be apart.
Read more about the Vitex Tree here.
Read more about the Dallas Arboretum Woodland Nymph Garden here.
Read more about fern gardening in Texas here. Read more about the Dallas Arboretum Fern Garden here.
Read more about the use of ornamental grasses in Texas landscaping here.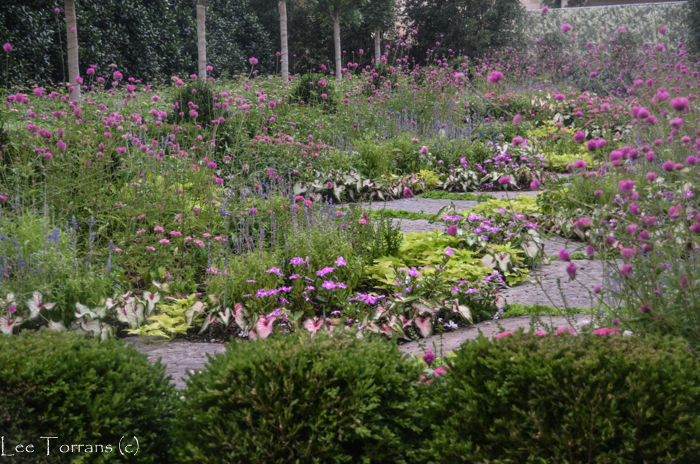 See brilliant use of Amaranthus in shades or orange with Banana Tree here.
Read and see more of the Arboretum Fern Garden here.
Read more about cacti, succulents and ornamental grasses in Texas landscaping here.
What's New in Dallas this Week?

Yellow Blooming Trees in July.

Read more about blooming trees here.

 The Laburnum Tree

The Laburnum Tree – Beautiful and Poisonous

While there are no reported deaths from the Laburnum Tree in one hundred years the tree carries that label. It is certainly lovely with Yuccas, Palms and Agave.
Read more about blooming trees in Texas here.
Read more about poisonous plants here.
This tree reminds me of William Blake's poem, A Poison Tree.

A Poison Tree

I was angry with my friend:
I told my wrath, my wrath did end.
I was angry with my foe:
I told it not, my wrath did grow.

And I watered it in fears,
Night and morning with my tears;
And I sunned it with smiles,
And with soft deceitful wiles.

And it grew both day and night,
Till it bore an apple bright.
And my foe beheld it shine.
And he knew that it was mine,

And into my garden stole
When the night had veiled the pole;
In the morning glad I see
My foe outstretched beneath the tree.

Chinese Parsol Tree or Firmiana simplex and known as wutong is native to Asia. It reaches 50 feet or more and its leaves have been used as tobacco. Its wood has been used for musical instruments in China.
 Rain Tree with red and yellow Yuccas.

Poisonous Plants Dangerous for Children

Agave's can be dangerous. Use care if you have young children when deciding to plant an Agave. There are over 150 varieties. Read more about the agave here.

Chitalpa is a cross of Desert Willow and Catalpa.

While I was not surprised to find the poisonous Desert Willow in a community area in Cuba I was very surprised to find it in a shopping center in Dallas, Texas.

It is not commonly known that Lantana is considered to be a poisonous plant. If you have young children consider whether you want this plant in your garden. Texas A&M notes the green berries are fatal. Yikes, I just never knew this. I have always had lantana. Most modern or recently produced Lantanas are sterile and do not have berries, but be aware many lantana do have berries.

Yew Shrubs

The yew, I am sad to note, has been reported as poisonous as well. This is my favorite shrub. I must admit to having eaten the leaves of the Yew as a child – and having no ill effect.
Read more about the Yew here.
Read Texas A&M's list of poisonous plants. Many I knew, such as the oleander and castor bean, but there are a few new surprise additions such as azaleas and wisteria. Perhaps I did not understand how deadly the mistletoe is. I believe if you have young children it is crucial to study this list.
This tree looks like a yellow bloom Vitex – though I am not sure. It blooms well after the lavender Vitex. It is exquisite.
Read more about the Texas Vitex Tree here.
Mexican Feather Grass, with Maidenhead Grass in July. A small Japanese maple behind just beginning to grow. The symmetry of the Mondo Grass defines the planting and reflects the architecture.
Read more about ornamental grasses in Texas here.

Dallas Arboretum on a Rare Evening Visit

Read more about Dallas Public Gardens here.

A beautiful spring hydrangea and geranium garden.

A Woman's Garden. Arboretum

Read and see more here.

Not the Only One Getting Serious About Crape Myrtles!

Read more about crape myrtles here.

Purple Crapes Say Hello, Finally!

Read more about purple crape myrtles here.

Purple Muskogee Crape Myrtle – Painting with a Lavender Palette

Read more here on Lavender Crape Myrtles: Muskogee and Bashan's Party Pink.

The History of a Fern!

The amazing story of a new born fern. Read more about fern gardening in Texas here.

The Wilson Historic District Dallas, Texas

Join me this week touring the Wilson Historic District.

Brought to Dallas by the Meadows Foundation.

Link Here

Week Three of June in Dallas: Looking at those front drive medians

A detailed look at the best medians and understanding of what makes them work. Hint: layering. Next week.

June to July: Crape Myrtle Months and I am getting serious about Crapes!

See redesigned page on Tuscarora – I love the blooms, the shape, the texture, just don't care for the color. Read an honest evaluation of the MOST popular crape myrtle in Texas, the Tuscarora.

Dwarf, Miniature, and Baby Crapes! Which one is right for you?

Stay tuned for two years of images on dwarf and miniature crapes and everything my client and I know combined! Good thing he is a Crape Myrtle expert. I still get confused?!?!? Is it a dwarf, a miniature or just a baby. It really takes an expert to make the call. Next week.

Week Two of June in Dallas. Because gardening is like poetry.

The Crapes are blooming! They have been slow to bloom this year because of the long winter. They are now putting on a stunning display in Dallas!

Read more here … Texas Top Ten Crape Myrtles.

Sometimes the best landscaping is very little. The house says it all.

| | |
| --- | --- |
| | I taste a liquor never brewed –From Tankards scooped in Pearl — Not all the Vats upon the Rhine Yield such an Alcohol! |
| | Inebriate of Air — am I — And Debauchee of Dew — Reeling — thro endless summer days — From inns of Molten Blue — |

| | |
| --- | --- |
| | When "Landlords" turn the drunken Bee Out of the Foxglove's door — When Butterflies — renounce their "drams" — I shall but drink the more!– |
| | Till Seraphs swing their snowy Hats — And Saints — to windows run — To see the little Tippler Leaning against the — Sun — |

Emily Dickenson

How has Austin influenced Dallas gardening?

Simply and irrevocably, until the shade sets in!

June Perennial Garden

Getting the Crapes So Right!

Texas Top Ten Crapes
 

Japanese Maples

Read more here: Japanese Maples.

It's About the Trees and the Ferns

Read more here.
See and read more here.

The Classic "Fern Urn" Comes Alive!

Read more here on ferns in Texas.

Shade Gardening Perfection

Shade Gardening to perfection. Limelight hydrangea now comes in dwarf and miniature forms. Here with purple Persian Shield. See slide show here.